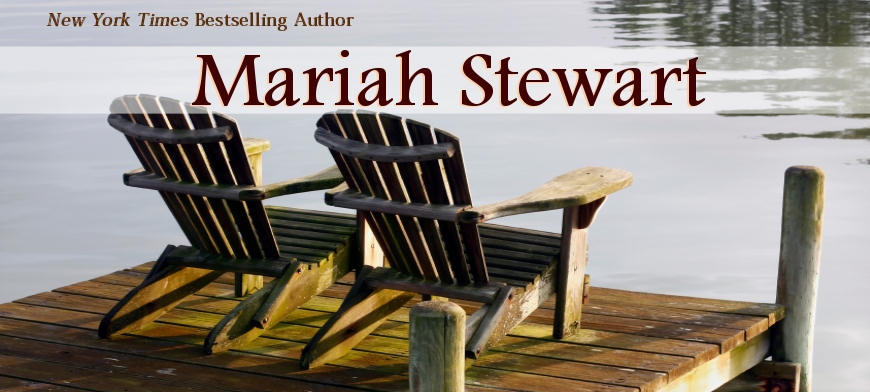 For a printable checklist of Mariah's published books, click here.
THE SUGARHOUSE BLUES
A Hudson Sisters Novel #2
Gallery Books
Trade Paperback
May 2018 (05-15-18)
ISBN-10: 1501144928
ISBN-13: 978-1501144929



From New York Times bestselling author Mariah Stewart comes more "catnip for women's fiction fans" (Booklist) in the second novel of the Hudson Sisters series.

Allie, Des, and Cara, each having her own reasons for wanting a share of their father's estate, meet in the grand Victorian home in which he grew up, only to be greeted by another secret he purposely hid from them: his sister Bonnie. The women reluctantly band together to take on Fritz's challenge, working with a local contractor to begin the renovations financed by an account Fritz had set up for the task. While the restoration appears to go smoothly at first, it soon becomes apparent that the work will be more extensive than originally thought, and Des, elected to handle the money, needs to find ways to stretch out the remaining savings while searching for new sources of funding.

As strangers linked only by their DNA try to become a family, the Hudson sisters also try to come to terms with the father they only thought they knew. In the process, each woman discovers her own capacity for understanding, forgiveness, love, and the true meaning of family.
THE CHESAPEAKE BRIDE
The Chesapeake Diaries #11
Pocket Books
Mass Market Paperback
September 2017 (08-29-17)
ISBN-10: 1501154354
ISBN-13: 978-1501154355



From New York Times bestselling author Mariah Stewart comes a new chapter in her celebrated Chesapeake Diaries series, featuring her signature "rich characterization, charming setting, and a romance you'll never forget" (Robyn Carr, #1 New York Times bestselling author).

Architect Cassidy Logan has sworn off good-looking adventurers. Newly divorced, she's focused on building ecologically friendly, historically accurate homes on the Chesapeake Bay for her father's construction company. Traveling to Cannonball Island—where there has been no new construction in nearly one hundred years—Cass is sensitive to the heritage of the island, and has come up with plans so perfect she's determined to buy a home for herself. Even the fact that Owen Parker—a local who she dismisses as a lightweight and a player—seems to be everywhere isn't enough to deter her from building her dream house.

Owen Parker is and always has been sinfully handsome and wickedly clever, a magnet for mischief as well as girls. He's a rolling stone, going and doing whatever appeals to him, from flying a mail plane in Alaska, to working on a cattle ranch in Australia, a shrimp boat in Louisiana, and surfing and diving in Costa Rica. When an old friend offers him a job salvaging a sunken ship on the Chesapeake Bay, Owen gladly accepts. Something's been telling him it was time to head home to Cannonball Island, and a job is as good an excuse as any. And he's totally smitten by the pretty architect on the scene, but it seems he's finally met a woman who's immune to his charms. Sooner or later, Owen will have to face the reason why he always runs, because this time, leaving just might be harder than staying.
LAST CHANCE MATINEE
A Hudson Sisters Novel #1
Gallery Books
Trade Paperback (April 2017)
ISBN-10: 1501144901
ISBN-13: 978-1501144905



From New York Times bestselling author Mariah Stewart comes the first novel in her all-new series, The Hudson Sisters, following a trio of reluctant sisters as they set out to fulfill their father's dying wish. In the process, they find not only themselves, but the father they only thought they knew.

When celebrated and respected agent Fritz Hudson passes away, he leaves a trail of Hollywood glory in his wake—and two separate families who never knew the other existed. Allie and Des Hudson are products of Fritz's first marriage to Honora, a beautiful but troubled starlet whose life ended in a tragic overdose. Meanwhile, Fritz was falling in love on the Delaware Bay with New Age hippie Susa Pratt—they had a daughter together, Cara, and while Fritz loved Susa with everything he had, he never quite managed to tell her or Cara about his West Coast family.

Now Fritz is gone, and the three sisters are brought together under strange circumstances: there's a large inheritance to be had that could save Allie from her ever-deepening debt following a disastrous divorce, allow Des to open a rescue shelter for abused and wounded animals, and give Cara a fresh start after her husband left her for her best friend—but only if the sisters upend their lives and work together to restore an old, decrepit theater that was Fritz's obsession growing up in his small hometown in Pennsylvania's Pocono Mountains. Guided by Fritz's closest friend and longtime attorney, Pete Wheeler, the sisters come together—whether they like it or not—to turn their father's dream into a reality, and might just come away with far more than they bargained for.
DRIFTWOOD POINT
The Chesapeake Diaries #10
Pocket Books
Mass Market Paperback (July 2016)
ISBN-10: 1476792593
ISBN-13: 978-1476792590



New York Times bestselling author Mariah Stewart returns to her Chesapeake Diaries series and to the cherished Maryland shores of St. Dennis with DRIFTWOOD POINT, the romantic tale of a man who takes a second chance on love with the high school crush who broke his heart.

Up-and-coming artist Lisbeth Parker finally has a chance to show the folks back home what it means to leave Cannonball Island and make something of yourself. As a native whose stubborn father forbade her from befriending townies, Lis always felt like an outsider in St. Dennis. While her work is on display in the local art gallery, she records her centenarian great-grandmother's stories of the island's rich history and falls in love with its unspoiled beauty.

Lis was Alec Jansen's secret dream girl growing up, and now that she's back with plans to turn her family's ramshackle cottage into an art studio, the handsome environmental engineer sees a second chance to win her heart. But when he's hired by a builder who wants to develop the island, Alec is caught between the change he knows is coming and Lis's desire to preserve the island and its way of life. Can Alex convince Lis that in the right hands change can be good, or will she see only betrayal?
IF ONLY IN MY DREAMS (reissue)
Pocket Books
eBook (December 2015)
Amazon ASIN: B00WRBQOIW
ISBN-13: 978-1501126901



New York Times bestselling author Mariah Stewart's timeless, charming holiday novella, originally featured in the popular yuletide anthology UPON A MIDNIGHT CLEAR, now available as a standalone at a great price!

A lively family reunion on a Montana ranch brings on a flurry of memories for a beautiful young writer—and a winter storm that rekindles an old flame—in this "warmly magical" (Library Journal) feel-good holiday gem!

Originally published November 16, 1997 within the hardcover anthology UPON A MIDNIGHT CLEAR.
THAT CHESAPEAKE SUMMER
The Chesapeake Diaries #9
Pocket Books
Mass Market Paperback (July 2015)
ISBN-10: 1476792577
ISBN-13: 978-1476792576



From New York Times bestselling author Mariah Stewart comes the latest book in her celebrated Chesapeake Diaries, a small-town romance series in the tradition of Barbara Freethy, Susan Mallery, and Robyn Carr.

Jamie Valentine is the wildly successful author of self-help books advocating transparency in every relationship. But when her widowed mother passes away unexpectedly, Jamie discovers her own life has been based on a lie. Angry and deeply betrayed, she sets out to find the truth—which may be in a small town on the Chesapeake Bay. Cutting her most recent book tour short, Jamie books a room at the Inn at Sinclair's Point, just outside St. Dennis.

The death of Daniel Sinclair's father forced him to take over the family inn, and his wife's death left him a single parent of two children, so there's little room for anything else in his life. His lovely new guest is intriguing, though, and he's curious about the secret she's clearly hiding. But in the end, Jamie and Dan could discover the greatest truth of all: that the search for one thing just might lead to the find of a lifetime—if you keep your heart open.
ON SUNSET BEACH
The Chesapeake Diaries #8
Pocket Books
Mass Market Paperback (July 2014)
ISBN-10: 0345538439
ISBN-13: 978-0345538437



From New York Times bestselling author Mariah Stewart comes a captivating and heartwarming new novel in her beloved Chesapeake Diaries contemporary romance series—perfect for fans of Barbara Freethy, Robyn Carr, and Susan Mallery.

Carly Summit's name couldn't be more fitting, since in life she always lands on top. She grew up wealthy and privileged in a tony Connecticut town, opened her own gallery in New York City, and is about to make art world history displaying previously unknown works by a prominent twentieth-century painter. No wonder she possesses a can-do attitude that can't be soured. Ford Sinclair is another story. A military career in war-torn Africa, where he witnessed unspeakable violence and suffering, has left him haunted and deeply cynical. Now he's looking for a way to forget and a place to belong. He hopes to find both back home in St. Dennis.

When Carly is forced to move the premiere of her new exhibition from Manhattan to St. Dennis, and Ford agrees to take charge of the town's only newspaper, the two cross paths. But it's hardly the start of a beautiful friendship. While Ford can't ignore her charms, Carly's unflappable good cheer only confounds him. Yet beneath Ford's stormy brooding, Carly sees a man worth caring about—even if her warmest ways can't thaw his frozen heart.

ON SUNSET BEACH — Chapter One

ON SUNSET BEACH — Chapter Two

ON SUNSET BEACH — Chapter Three

ON SUNSET BEACH — Chapter Four
THE CHESAPEAKE DIARIES SERIES (reissues)
7-in-1 reissues in eBook format (June 2014)
Amazon ASIN: B00J7QKZ0S
ISBN-13: 978-0804180719



In the tradition of Robyn Carr, Susan Mallery, and Barbara Freethy, the stories in the Chesapeake Diaries series combine captivating contemporary romance with the heartwarming power of healing and redemption. Once you settle into the charming small-town rhythms of St. Dennis, Maryland, you'll never want to leave. And now, you won't have to, with the first seven novels in this beloved series from New York Times bestselling author Mariah Stewart collected in one eBook bundle:

COMING HOME
HOME AGAIN
ALMOST HOME
HOMETOWN GIRL
HOME FOR THE SUMMER
THE LONG WAY HOME
AT THE RIVER'S EDGE
Also includes a preview of the next Chesapeake Diaries novel, ON SUNSET BEACH!

Along the way, you'll meet Steffie Wyler, the proud owner of the One Scoop or Two ice cream parlor who is still searching for her happily ever after; Brooke Madison Bowers, the local pageant star who falls to pieces when her husband is killed while serving in Iraq; Dallas MacGregor, the award-winning actress who seeks refuge in St. Dennis after her Hollywood dream turns into a tabloid nightmare; and Sophie Enright, who discovers a shuttered restaurant and makes a bold move to finally pursue her dream career. The Chesapeake Diaries series brings together these unforgettable characters, and many more, in Mariah Stewart's enchanting tales of love, compassion, and second chances.
AT RIVER'S EDGE
The Chesapeake Diaries #7
Mass Market Paperback (February 2014)
ISBN-10: 0345538420
ISBN-13: 978-0345538420



After taking stock of her life, Sophie Enright has decided it's time for a break. Between a law career that's become criminally dull and a two-timing boyfriend she's done with once and for all, Sophie desperately needs some time to think and some space to breathe. The perfect place to do both is easygoing St. Dennis, Maryland, where Sophie can visit with her brother while she figures out her options. Once in St. Dennis, she discovers a shuttered restaurant and makes a bold move that is also a leap of faith. Sophie buys the fixer-upper in order to finally pursue her dream career.

But Sophie's labor of love becomes a bone of contention for her new neighbor Jason Bowers. The local landscaper has big plans for growing his business—until Sophie scoops up the property he's got his eye on. And no amount of buyout offers or badgering from him will get her to budge. It's hardly the start of a beautiful friendship. But when they're paired up to work on a community project, they agree to put their differences aside, and sparks begin to fly. Then Sophie's cheating ex suddenly shows up, looking for a second chance—and threatening to make Jason a third wheel just when his hotheaded feelings about Sophie were turning decidedly warmhearted. All Sophie wants is a new life and a true love. But what are the odds of having both?
SWEPT AWAY
eBook (June 2013)
ASIN: B00A6CLJ9I
ISBN-13: 978-1476733326



A romantic summertime short story from New York Times bestselling author Mariah Stewart, now available as a standalone eBook!

A successful oceanside chef meets the man of her dreams—a P.I. with secrets of his own—at a vacation spot packed with memories for them both.
THE LONG WAY HOME
The Chesapeake Diaries #6
Mass Market Paperback (February 2013)
ISBN-10: 0345538412
ISBN-13: 978-0345538413



New York Times bestselling author Mariah Stewart presents a captivating contemporary romance novel in the tradition of Robyn Carr, Susan Mallery, and Barbara Freethy.

As the only child of a wealthy investment manager, Ellie Chapman has never known anything besides a life of perfect privilege. But her years of good fortune come to an abrupt end when her father is exposed for swindling billions of dollars from innocent investors in a massive Ponzi scheme. And just like that, Ellie loses everything: money, job, home—even her fiancé, who's jailed as her father's partner in crime. With no job prospects on the horizon, no cash, and her family name in tatters, Ellie has only one place to go.

Sleepy St. Dennis, Maryland, is hardly where Ellie intends to stay, however. Keeping her identity a secret, she plans to sell the house her late mother left her in the small town and use the proceeds to move on with her life. Unfortunately, her ticket to a new beginning is in dire need of a laundry list of pricey improvements, many of which she'll have to do herself. And until the house on Bay View Road is fit to be sold, the sole place Ellie will be traveling is the hardware store. But as the many charms of St. Dennis—not to mention Cameron O'Connor, the handsome local contractor who has secrets of his own—begin to work their magic, what begins as a lesson in do-it-yourself renovations might just end up as Ellie's very own rejuvenation.
HOME FOR THE SUMMER
The Chesapeake Diaries #5
Mass Market Paperback (June 2012)
ISBN-10: 0345531221
ISBN-13: 978-0345531223

Some of Lucy Sinclair's best days were those spent growing up in small town St. Dennis—working at the family inn and enjoying summers filled with swimming, sailing, tennis, and the company of Clay Madison, her best friend. But Lucy's darkest day, the one that shattered her innocence with violence and fear, also happened in St. Dennis. And the town she once loved became the place she gladly left behind—along with the terrible secret she's kept for twenty years.

While Lucy headed off for college and a career, Clay remained—more than satisfied with the life St. Dennis had to offer. But now, even after inheriting his family's thriving farm and starting up an organic brewery, he can't help feeling that something's missing. And when Lucy comes back to town to plan a celebrity wedding at the Sinclair family inn, she and Clay reconnect, and find themselves reevaluating their long-sleeping friendship that could blossom into something deeper. Like a bookend to those distant childhood days, this summer will be Lucy's chance to finally confront her hidden pain, make peace with the past, and plan her own whole new future.
HOMETOWN GIRL
The Chesapeake Diaries #4
Mass Market Paperback (October 2011)
ISBN-10: 0345531213
ISBN-13: 978-0345531216

Life was always just about perfect for Brooke Madison Burke. She was the prettiest, most popular girl in small-town St. Dennis, Maryland, a prom queen, local pageant star, and the pride and joy of her loving parents. She even married the man of her dreams. But the promise of happily ever after fell to pieces when her husband was killed while serving in Iraq. Brokenhearted and longing for the solace of better days, she returns to the idyllic world of St. Dennis, and the familiar comfort of the family farm. Surrounded by her loving family and friends, she's determined to build a new life, complete with her own cupcake bakery. She's equally determined never to fall in love again.

For Jesse Enright, life has been a challenge. A fourth-generation attorney, he's spent his life fighting to escape the shadow of his irresponsible father. Now he's moved to St. Dennis to run the family law practice, and he's ready to find the right girl, get married, and settle down. But his carefully laid plans go out the window when he meets Brooke and finds himself caught between the unbreakable law of attraction and Brooke's resolve to go her way alone—despite the undeniable feelings Jesse stirs in her. But just like catching lightning in a bottle, is it possible to fall head-over-heels, heart-and-soul in love all over again?
ALMOST HOME
The Chesapeake Diaries #3
Mass Market Paperback (April 2011)
ISBN-10: 0345520378
ISBN-13: 978-0345520371

When she was young, Steffie Wyler always knew exactly what she wanted to do with her life: 1. Make ice cream. 2. Marry the coolest boy in town. 3. Live happily ever after. These days, Steffie is the proud owner of One Scoop or Two, a wildly popular ice cream parlor. But the cool guy left town right after high school, before they could scratch the surface of their mutual attraction to see what, if anything, lay beneath. Steffie's made a great life for herself in St. Dennis, but true love has never come knocking.

Wade MacGregor left for college in Texas and remained there to start a successful business with his best friend, Robin Kennedy, but he's always felt something was missing. Then life throws him a curveball: A third partner has robbed the company blind, and Robin has died—but not before entrusting Wade with a precious secret. Now back in St. Dennis, Wade's determined to do whatever it takes to protect his friend's legacy—and to figure out, once and for all, if the sparks that fly whenever he's with Steffie are just temporary fireworks or the lights in the window leading him home.
HOME AGAIN
The Chesapeake Diaries #2
Mass Market Paperback (August 2010)
ISBN-10: 0345520351
ISBN-13: 978-0345520357

Dallas MacGregor is living the Hollywood dream. At thirtysomething, she's an award-winning actress beloved by the public and bound for even bigger success. But when her soon-to-be-ex-husband, producer Emilio Baird, is caught in a sex scandal, Dallas's charmed life turns tabloid nightmare. Determined to shield her young son, Cody, from the ugly uproar, Dallas seeks refuge in sleepy St. Dennis, Maryland—the Chesapeake Bay town where her happiest childhood days were spent.

Reunited with her boisterous, beloved great-aunt, Dallas wants nothing more than to leave her Hollywood days behind. And when she crosses paths with local veterinarian Grant Wyler, her high school summer love, she finds he's everything she remembers, and more—and that the spark is still there. But Dallas's promising new life takes a troubling turn when the unimaginable happens and she finds herself living a mother's worst nightmare, and Emilio storms into St. Dennis to save the day—along with his damaged career. Trapped in the unwanted glare of the limelight once again, Dallas discovers that it's coolheaded Grant who is willing to risk everything for her and her son, and to secure the future they were always meant to share.
COMING HOME
The Chesapeake Diaries #1
Mass Market Paperback (April 2010)
ISBN-10: 0345520335
ISBN-13: 978-0345520333

In the wake of his wife's murder, agent Grady Shields turned his back on the FBI—and everything else—to retreat into the vast solitude of Montana, grieve for his lost love, and forget the world. But after years in seclusion, his sister's wedding draws him to St. Dennis, a peaceful town on the Chesapeake Bay. Though he swears he isn't interested in finding love again, Grady can't ignore the mutual sparks that fly when he meets Vanessa Keaton.

Although her past was marked by bad choices, Vanessa has found that coming to St. Dennis is the best decision she's ever made. Bling, her trendy boutique, is a success with tourists as well as with the townspeople. She's made friends, has a home she loves, and has established a life for herself far from the nightmare she's left behind. The last thing she's looking for is romance, but she's finding the hot new man in town is hard to resist.

And when her past catches up with her, Grady finds that he's unwilling to let her become a victim again. As together they fight her demons, Grady and Vanessa discover that life still holds some surprises and that love doesn't always have to hurt.
ACTS OF MERCY
A Mercy Street Foundation Novel #3
Mass Market Paperback (September 2009)
ISBN-10: 0345506146
ISBN-13: 978-0345506146

Former FBI agent Sam Delvecchio brings the keen skills of a profiler to his new position as a Mercy Street Foundation operative—and not a moment too soon. His first assignment, the cold-case murder of a local soup kitchen volunteer, has all the telltale signs of a serial killer's work. That grim suspicion is confirmed when FBI agent Fiona Summers shares the details of two other killings with eerie similarities to Sam's case: The bodies in all three cases have been carefully posed. And when a fourth victim is discovered, the two investigators realize they're pursuing the same twisted quarry.

Local parish priest Kevin Burch, Mercy Street founder Robert Magellan's cousin, recognizes the posings for what they are: The killer is staging the church's seven Acts of Mercy ("Feed the hungry, clothe the naked . . .") with the bodies of his victims. But as Sam and Fiona race to prevent the final three murders, taunting messages from their target lead to the most chilling realization of all.
"...a complex and multidimensional procedural thriller from an author at the top of her game."
—Jill Smith, RT Book Reviews

"Impossible to put down. Sure to keep you turning the pages...well crafted with electrifying suspense."
—Romance Reviews Today
CRY MERCY
A Mercy Street Foundation Novel #2
Mass Market Paperback (May 2009)
ISBN-10: 0345506138
ISBN-13: 978-0345506139

Abandoned shortly after her birth, Ann Nolan knows what it's like to grow up unwanted, without a real home or a loving parent. Now a California beat cop, she's adopted the daughter of a notorious drug dealer and has become a loving single parent to Chloe. When the ruthless father makes it clear he'll stop at nothing to take back his only child, Ann flees across the country, changes her name, and starts a new life — as an investigator for the Mercy Street Foundation, the billionaire-endowed organization dedicated to finding missing persons. As Emme Caldwell, she takes the lead on the Foundation's first case. Nineteen-year-old Belinda Hudson disappeared from her sorority house leaving behind one cryptic clue on her calendar for the day she went missing. Retracing the vanished student's steps leads Emme to Heaven's Gate, a fertility clinic, and the mysterious Donor 1735.

As Belinda's legal guardian, Nick Perone is determined to shadow Emme's every move as she searches for his niece. But the closer Emme gets to Donor 1735 and the chilling truth, the more apparent it becomes that she's escaped one dangerous man only to run head-on into another, one who's far more determined, and every bit as deadly.
MERCY STREET
A Mercy Street Foundation Novel #1
Hardcover (May 2008)
ISBN-10: 0-345-49226-9
ISBN-13: 978-0-345-49226-5
Mass Market Paperback (March 2009)
ISBN-10: 0345492277
ISBN-13: 978-0345492272

On a balmy spring evening, four high school seniors—three boys and a girl—enter a park in the small Pennsylvania city of Conroy. The next morning, two of the boys are found shot to death, and the girl and the third boy are gone. After three weeks with no leads and no sign of either of the two missing teenagers, the chief of police begins to wonder if they too were victims. But with no other suspects, the authorities conclude that one of these kids was the shooter.

The missing boy's grandmother, a secretary at the local parish church, maintains his innocence. On her behalf, the parish priest, Father Kevin Burch, hires former detective Mallory Russo as a private investigator to figure out what happened in the park that night. Mallory had ended her nine-year stint with the Conroy police force some time ago after becoming a target of a smear campaign. Now a true-crime author, Mallory is surprised to receive the priest's offer—and highly intrigued by the case. She can't help but accept the challenge—especially when she learns that her investigation will be financed by Father Burch's cousin the reclusive billionaire Robert Magellan, a man whose own wife and infant son disappeared without a trace a year ago, a man who understands the heartache of not knowing what happened to a loved one.

Detective Charlie Wanamaker is facing another sort of tragedy. He fled Conroy years ago with no plans to return to what he considered a dying factory town—until a family emergency brought him back. Finding the situation much worse than he'd thought, he trades his job as a big-city detective for one with the Conroy police department. Assigned to the park shooting case, Charlie quickly realizes that the initial investigation left a lot of questions unanswered. Unofficially, he teams up with Mallory to uncover the truth and find the two kids, dead or alive. What Charlie and Mallory discover will take them down a twisted path that leads to an old unsolved murder—and justice for a killer with a heart of stone.
"Stewart sets up a clever overarching premise for her intense new series with an independent group of law-enforcement professionals whose mission is taking on cold cases, all bankrolled by a billionaire with his own tragic story. With its hard-edged drama and some burgeoning romance, this story works on many levels. Stewart is a blessing to the genre."
—Jill Smith, 4 stars — Romantic Times BOOKreviews

"Ms. Stewart begins a new series that focuses on missing persons. The vivid characters she assembles have ample flaws to interest readers as they watch them develop and reawaken to the new possibilities that life offers. The well-executed plot ends with a thrilling climax."
—Suan Wilson, Fresh Fiction

"All-in-all, another winner from the Queen of Romantic Suspense, Mariah Stewart! Highly recommended! *****"
—Detra Fitch, Huntress Reviews

"Mariah Stewart keeps on penning some of the very best romantic suspense tales in today' market, and Mercy Street is a great example of her awesome talent. This book comes highly recommended by this reviewer."
—Betty Cox, Reader-to-Reader Reviews

"MERCY STREET is a gem in the ever-growing selection of romantic suspense novels. Mariah Stewart has created real characters with flaws and problems. They are memorable and likable, stay with you, and make you wonder what they're doing long after you close the book. She also has tied together three mysteries into one fascinating story, and I for one can't wait for the next installment in the Mercy Street Foundation series."
—Amie Taylor, Bookreporter.com
FORGOTTEN
A Mass Market original in the continuing FBI series
SEPTEMBER 2008
ISBN-10: 0345506111
ISBN-13: 978-0345506115

WHO SPEAKS FOR THE DEAD
WHEN THEY SCREAM BLOODY MURDER?

Sheldon Woods kidnapped and killed an untold number of boys, then escaped the death penalty by making a plea deal for multiple life sentences. Nearly a decade later, the full extent of his crimes is still unknown, and many of his victims have never been accounted for. But Lisa Walsh is certain her brother Christopher was one of them—and to honor her mother's dying wish, she's on a mission to learn the truth and recover the lost little boy's remains. FBI agent Portia Cahill is tasked with confronting the caged killer, and obliged to play his mind games to get what she's after. But she ends up with more than she bargained for when the remains of another boy's body are discovered.

Determined to ID the mystery child, Portia reluctantly teams with James Doyle, the attorney who once defended Woods. But chasing a killer's grisly legacy, and the bones of the forgotten dead, will lead them into the lethal orbit of a latter-day monster who's seeding the graves of the past with a fresh wave of innocent victims.
LAST BREATH
Hardcover
AUGUST 2007 — ISBN-10: 0345492242
First Time in Paperback
APRIL 2008 — ISBN-10: 0345492250
ISBN-13: 978-0345492258

As renowned archaeologist Dr. Daria McGowan readies the most important project of her career—a museum exhibit showcasing the priceless artifacts her great-grandfather unearthed a century ago in the Middle East—she makes a shocking discovery: many of the most significant pieces have vanished. Panicked, Daria turns to the FBI.

It's an assignment that Special Agent Connor Shields is more than happy to accept: Daria is the same pretty American archaeologist he's been searching for ever since a chance meeting two years ago. Working together to track down the owners of the stolen artifacts, Daria and Connor discover a trail of bodies—collectors who have met brutal, bizarre ends at the hands of a killer whose murderous methods are based on the rituals of an ancient civilization.

Amid rumors of a curse and mounting pressure from both the FBI and the museum, Daria and Connor race to unmask their enemy and unravel a mystery stretching across oceans and centuries. All the while, an ingenious murderer follows a sinister plan to gather the coveted antiquities, and one last acquisition: Daria.
LAST WORDS
JULY 2007 — ISBN 0345492234
ISBN-13: 978-0345492234

THE LAST WORDS THEY
HEARD WERE THEIR OWN...

A nine-year veteran of the FBI, Special Agent Mia Shields thinks she's seen it all. But nothing prepares her for the terror that descends upon the idyllic bayside community of St. Dennis on Maryland's Eastern Shore, where a depraved killer has left a grisly surprise for chief of police Gabriel Beck: the body of an unidentified woman, naked and completely encased in plastic wrap, stretched across the backseat of Beck's car. Hidden in the wrapping is a tape recording of the victim's last, gasping words, terrifying evidence of the horror endured at the hands of a madman. Soon the body count begins to rise as more victims are found, all gruesomely cocooned, their final pleas captured on tape.

Determined to capture the sadistic killer, Beck and Mia team up and set a trap—with Mia as bait. But their prey is closer than they ever could have imagined. Now Beck must race against time to save Mia from becoming the next victim of a serial killer as elusive as he is evil...
LAST LOOK
JUNE 2007 — ISBN-10: 0345492226
ISBN-10: 978-0345492227

THE OLDEST SINS CAST
THE LONGEST SHADOWS...

News that the body of a recently murdered prostitute—shot through the heart at close range, stabbed repeatedly and dumped on Georgia's Shelter Island—has been identified as Shannon Randall stuns the FBI, particularly Special Agent Dorsey Collins. Twenty-four years ago, nineteen year old Eric Louis Beale was convicted and later executed for Shannon's murder—and the agent in charge of the investigation was Dorsey's father. Now Dorsey is determined to find out where her father's investigation went wrong, what part he played in the death of an innocent young man, and where Shannon has been all this time.

The heat is on FBI Special Agent Andrew Shields to discover what happened to Shannon on that night decades ago, and to find out who killed her and why. Dorsey shadows Andrew's every investigative move, hoping to redeem her father's reputation and capture a cunning killer. Together, Dorsey and Andrew unravel a shocking mystery that will shatter one family, and rock an entire town. Read an Excerpt


"Another thriller with that patented Stewart flair."
—4 1/2 stars - Romantic Times Book Reviews


"A powerful thriller. Mariah Stewart can always be counted on to write an exciting romantic suspense thriller, and LAST LOOK is no exception."
—Harriet Klausner - rated 5 out of 5

FINAL TRUTH
Hardcover
JUNE 2006 — ISBN 0-345-48383-9
Paperback
MARCH 2007 — ISBN-10: 0345483847
ISBN-13: 978-0345483843

All that stands between Lester Ray Barnes and the state of Florida's death chamber is a judge's signature. He is sentenced to die for the rape and murder of a young woman, his conviction hinging on two pieces of evidence: DNA testing and an eyewitness who placed him at the scene. But when the story breaks that the DNA testimony at trial had been fabricated and that the eyewitness was coerced by a cop, all hell breaks loose. In the absence of credible evidence to sustain the conviction, the court is forced to set Lester Ray free. It's the sort of circus the media adore—until it turns into the kind of Grimm's fairy tale the media love even more.

Intrigued by the story of a young man railroaded by justice, true-crime writer Regan Landry is drawn into Lester Ray's camp like a moth to a flame. For Regan, writing is a way to stay connected to her late literary-legend father, and her knack for detective work makes her a natural when it comes to uncovering new leads in even the murkiest mysteries.

Eager for the spotlight, Lester Ray willingly agrees to work with Regan on a tell-all about his experience as an innocent man on death row. But less than a week after leaving prison, he vanishes from the Sunshine State. Soon after, darkness descends on the outer banks of North Carolina as a string of women are raped and murdered in a frenzied spree. Fearing the worst, Regan and FBI Special Agent Mitch Peyton sweep in to confront the unspeakable: the horrifying possibility that they have helped to free a cunning monster with an insatiable appetite for death—and a ruthless determination never to be caged again.
COLD TRUTH
AUGUST 2005 — ISBN-10: 0345476654
ISBN-13: 078-0345476654

# 20 on New York Times and
#26 on USAToday bestsellers lists


TRUTH HAS DEADLY CONSEQUENCES


Twenty-six years ago, even before a series of brutal murders rocked the idyllic bayside town of Bowers Inlet, Cassie Burke lost her parents, her sister, and nearly her own life to a transient befriended by her father. Back then, Cassie was a scared kid — now she's a homicide detective. Back then, the suspect was caught and convicted — and he died in prison. But now the killing has started all over again. And all signs indicate that the Bayside Strangler has come back for more.

With too many victims and too few suspects, Cassie has her hands full investigating the case, while working through the old trauma it has brought to the surface. Luckily, FBI agent Rick Cisco is dispatched to assist in the investigation. Together, Cassie and Rick must uncover the link between the dark past and the dangerous present to bring this small town's nightmare to an end once and for all. If they fail, an elusive fiend will slip back into the shadows...to watch and wait, and kill another day.

"Launching a new FBI trilogy, Mariah Stewart uses some familiar characters as well as debuting new ones. Multifaceted relationships and connections always play pivotal roles in unlocking the secrets of the remarkable Ms. Stewart's dramatic thrillers. As Cold Truth proves, Ms. Stewart is one impressive storyteller!"
—Jill Smith, RT Bookclub

5 STARS ~
"...this story will feel like a sock in your gut. I found this one to be so real, it was hard to fall asleep at night. Excellent beginning to a new thriller series!"
—Detra Fitch, Huntress Reviews

HARD TRUTH
SEPTEMBER 2005 — ISBN-10: 0345476670
ISBN-13: 978-0345476678

#10 - Publishers Weekly Bestseller list
#14 - New York Times Bestseller list
#23 - USAToday Bestseller list

IN MATTERS OF CRIME,
THERE ARE MANY VERSIONS OF THE TRUTH

Two children who mysteriously disappeared twenty-one years ago are the last thing on Lorna Stiles's mind when she returns to her Pennsylvania hometown to sell the old family property in the wake of her mother's passing. But along with her memories, Lorna finds the fields where she grew up yield something utterly chilling.

All those years ago, when nine-year-old Melinda Eagan vanished on her birthday, her foulmouthed older brother, Jason, quickly became the lone suspect. Yet when he went missing, too, the case turned cold. But Jason, it seems, never got far: His bones have been moldering on the Stiles' land for more than two decades. As far as the local police are concerned, the book is closed on Melinda's murder — and Jason's death is justice served. But Lorna refuses to let the dead rest uneasily. When Jason's mother is accused of his murder, Lorna turns to private eye T. J. Dawson to dig up the dirt of the past and see what lies beneath. Only there's someone out there who hasn't forgotten — and who won't be the least bit forgiving about being exposed as a killer.
DARK TRUTH
OCTOBER 2005 — ISBN 10: 0345476697
ISBN 13: 978-0345476692

WILL THE TRUTH SET HER FREE —
OR SET A TRAP?

Murder didn't end Nina Madden's life — it destroyed it. When her father was charged with the serial killings of several college students, Nina and her mother became pariahs in their small Maryland town. Though Nina never believed the hideous accusations, evidence led to her father's conviction and guaranteed the death penalty. After the execution, Nina left Stone River to escape the hatred and persecution . . . but she couldn't shake the lingering doubts.

More than twenty years later, those doubts are stirred to grim life. A new series of murders is plaguing Stone River: a killing spree that bears a striking resemblance to the one that sent Nina's father to the death chamber. And Nina isn't the only one disturbed enough by the gruesome events to take notice. Wes Powell, the cop who pursued the original case, can't ignore the eerie similarities between the crimes . . . nor their harrowing implications. Drawn back into a mystery that refuses to die, Nina and Wes will cross paths on their dangerous quest — and find themselves in the crosshairs of a bloodthirsty predator.

FROM BALLANTINE BOOKS:

DEAD END
AUGUST 2005 — Hardcover
JUNE 2006 — Mass Market Paperback
ISBN-10: 0345483820
ISBN-13: 978-0345483829

#33 on the New York Times list
of bestselling hardcovers

"...a twisted scheme of revenge..

Two years ago, a major FBI undercover drug deal suddenly went south—and special agent Dylan Shields went down in a hail of bullets. When the dust cleared, his fellow agent (and fiancée) Anne Marie McCall was left alone with too many unanswered questions and nothing to do but hit the job as hard as she could to dull the pain. Only now is she beginning to ease up on her punishing routine as a Bureau profiler and starting to let some light in again. Detective Evan Crosby had a lot to do with drawing Annie back into life, and she's not about to let her chance at happiness with him slip away.

But before she can embrace a bright new future, she must grapple with the dangerous past whose demons of doubt and suspicion won't let her sleep at night . . . and whose dead will never rest in peace until justice is served. That means going places where someone doesn't want Annie to go and maneuvering a minefield of dirty tricks and deadly threats in order to make a cold case hot enough to get the right people sweating. The harder Annie squeezes, the more blood, lies, and betrayal she wrings out . . . and the closer she comes to connecting a face to the trigger finger that blew away her dreams — and Dylan Shields. What she doesn't know is that the killer she's closing in on is looking for closure too. The kind that only Annie's death can bring.


"Making her hardcover debut, powerhouse romantic suspense maven Mariah Stewart completes her intense & creepy "Dead" series. A mystery that has run through the previous books is finally resolved and in spectacular fashion. One thing's for certain,
Dead End will leave you breathless!"
—Jill Smith, RT Bookclub

"Fans of the CSI television series will adore this book
as the two main characters work through all the evidence.
Excellent series that I highly recommend to all." ****
—Detra Fitch, Huntress Reviews

"FIVE STARS!
A potent romantic suspense!
Mariah Stewart is dead on with this tale and series."
—Harriet Klausner, The Best Reviews




DEAD EVEN
AUGUST 2004 — ISBN 0-345-46394-3


"DEAD EVEN...is just as exciting and outstanding as its predecessors. The characters are sharp and remarkable...Ms. Stewart's writing is rich and compelling, and she is in full control of her characters and plot, neatly tying up all the loose ends in a tidy knot."
—RL Rebel, Romance Fiction


DEAD CERTAIN
JULY 2004 — ISBN 0-345-46393-5


"...a twisted scheme of revenge...a terrific fast-paced read. Once readers finish this book they'll want to read the whole series..." —thebestreviews.com


DEAD WRONG
JUNE 2004 — ISBN 0-345-463-92-7

"This is one romantic psycho-thriller,
written by a master storyteller, that is a must read."

"Fast-paced and intricately plotted...combines engaging characters with a unique premise...overlayed with Stewart's singular knack for keeping readers up at night. This chilling, creative tale will thrill Stewart's growing number of fans who are sure to be waiting this summer for the rest of the series. Stewart excels at writing romantic suspense of the women in jeopardy type." —The Library Journal

"DEAD WRONG is the superb opening installment of Mariah Stewart's DEAD trilogy. As the killer gets closer, the tension is palpable, and it is impossible to put the book down. Ms. Stewart flawlessly creates believable characters who are brilliant, and a plot that moves easily and progressively to an exhilarating conclusion. This is one romantic psycho-thriller, written by a master storyteller, that is a must read." —Betty Cox, AOL Romance Fiction Reviews



~~~~ AND JUST IN CASE YOU MISSED THEM ~~~~



UNTIL DARK
DECEMBER 2003 — ISBN 0-345-44740-0



"A heart-pounding book that had me enthralled from the first page to the last."
—CARLA NEGGERS, New York Times bestselling author of The Harbor


THE PRESIDENT'S DAUGHTER
AUGUST 2002 — ISBN 0-345-44739-5



Winner of NJRW's GOLDEN LEAF AWARD
for Best Single Title Romance of 2002!!!

"Featuring careful plotting, especially good character descriptions, and enough red herrings to keep readers off balance, this engrossing contemporary romantic mystery provides an occasionally disconcerting glimpse into the lives and resources of the politically powerful and their obsession with public image and the destructive lengths some will go to maintain it."
—The Library Journal



FROM POCKET BOOKS:



VOICES CARRY
FEBRUARY 2001 — ISBN 0-671-78791-5



WINNER OF NJRW'S GOLDEN LEAF AWARD for Best Single Title Romance of 2001


"Highly talented Mariah Stewart provides her audience with a taut romantic suspense thriller that will provide the awesome author with new readers. The serial killer angle fits quite well with the elements of romantic suspense...The fast-paced story line is filled with action from page one with only romantic interludes to give the audience an occasional breather. Ms. Stewart provides her fans with another winner.
—Harriet Klausner


BROWN-EYED GIRL
APRIL 2000 — ISBN 0-671-78588-5



RITA FINALIST FOR ROMANTIC SUSPENSE — 2000


"Mariah Stewart proves she can deliver first class, pulse-pounding suspense...(Stewart) is clearly headed for stardom. If you read only one book this month, make sure it is BROWN-EYED GIRL. (Stewart) had me in the palm of her hand while reading this nail-biting suspense!"
—Suzanne Coleburn, Belles and Beaux of Romance


PRICELESS
JUNE 1999 — ISBN 0-671-02625-9



"The very talented Ms. Stewart is rapidly building an enviable reputation for providing readers with outstanding stories and characters that are truly exciting, distinctive and highly entertaining. PRICELESS continues to expand on this truly winning storytelling tradition."

4 1/2 stars - a Romantic Times Top Pick
—Jill M. Smith, Romantic Times



*** THE ENRIGHT SERIES ***



MOON DANCE
JANUARY 1999 — ISBN 0-671-02624-0



WINNER OF ROMANTIC TIMES REVIEWER'S CHOICE AWARD FOR BEST CONTEMPORARY ROMANCE OF 1999

"Enchanting...a story filled with surprises!"
—The Philadelphia Inquirer


Reprint cover 08/07

WONDERFUL YOU
JULY 1998 — ISBN 0-671-00416-6



"WONDERFUL YOU is a multi-layered novel that will appeal to fans of romance, mainstream fiction and family sagas. Mariah Stewart exceeds her own high standards of excellence with a work that compares favorably to the best of Barbara Delinsky and Belva Plain."
—Paintedrock.com


Original cover

Reprint cover 06/07

DEVLIN'S LIGHT
AUGUST 1997 — ISBN 0-671-00415-8



"A magnificent story of mystery, love and an enchanting town. Splendid!"
—Bell, Book and Candle


Original cover

Reprint cover 03/07

CAROLINA MIST
AUGUST 1996 — ISBN 0-671-52787-8



"Ms. Stewart has written a touching and compassionate story of life and love that wrapped around me like a cozy quilt..."
—Tanzey Cutter, Old Book Barn Gazette


Original cover

A DIFFERENT LIGHT
NOVEMBER 1995 — ISBN 0-671- 86855-1



"This is an absolutely delicious book to curl up with, no matter what the season. Scrumptious...delightful. Mariah Stewart is one to watch and savor for a long time."
—Philadelphia Inquirer


MOMENTS IN TIME
FEBRUARY 1995 — ISBN 0-671-86854-3



"Cleverly and excellently done — Ms. Stewart is an author to watch. Her star is on the rise."
—Rendezvous



*** ANTHOLOGIES ***



WAIT UNTIL DARK

— with Karen Robards, Andrea Kane, and Linda Anderson


UNDER THE BOARDWALK

— with Linda Howard, Geralyn Dawson, Jillian Hunter and Miranda Jarrett

UPON A MIDNIGHT CLEAR

— with Jude Devereaux, Linda Howard, and Stef Ann Holm





| | | | | |
| --- | --- | --- | --- | --- |
| | | | | copyright © 2005-2020 |